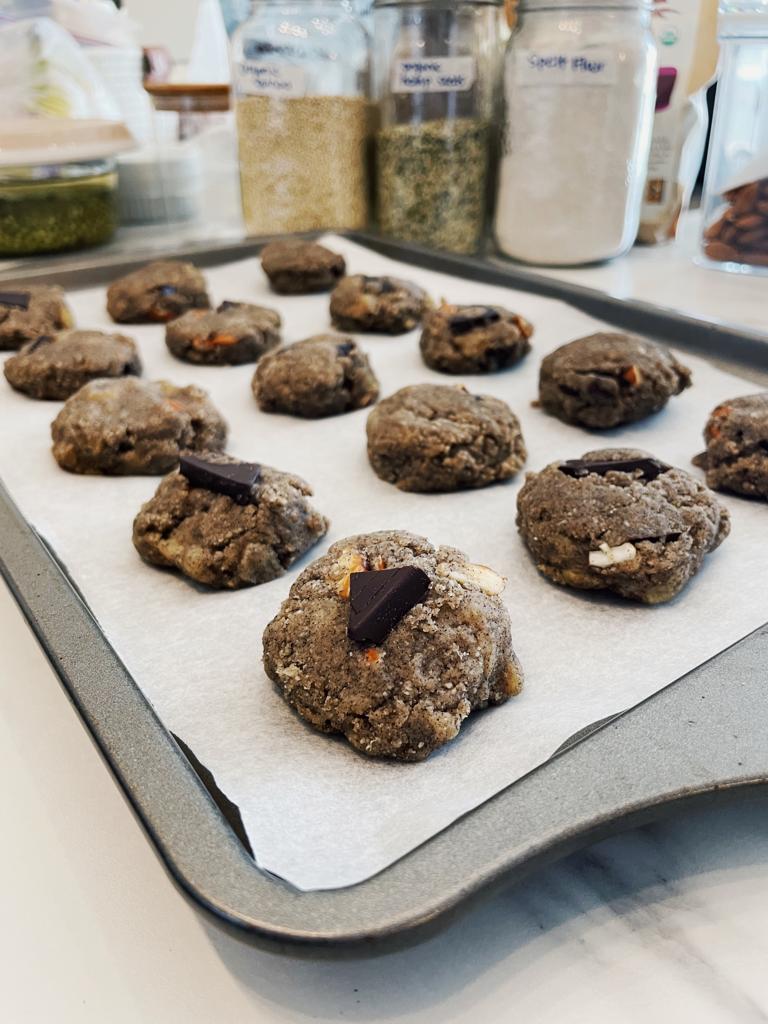 Gluten-Free Chocolate Chip Cookies
Who doesn't love a good cookie? But the sugar high and subsequent energy crash can really set you on a blood sugar roller coaster. Luckily, we can still enjoy a sweet treat by leveraging good fats, fibre and protein. These will slow the absorption of sugar, creating balanced mood and energy levels that will last the whole day. This gluten-free chocolate chip cookie is the perfect recipe to share with friends and family. Make good food work for you!
✨ Recipe ✨
Wet Ingredients:
1/3 cup unrefined coconut oil, softened
3/4 cup apple sauce
1/4 cup maple syrup
2 tsp vanilla extract
1 pinch of sea salt
Dry Ingredients:
1/2 cup rice flour
1/2 cup buckwheat flour
1/2 cup quinoa flour
1/2 tsp baking soda
Add-ins:
Dark chocolate chips, measured to your heart's content ❤️
1/2 cup chopped pecans, walnuts, or hazelnuts
Directions:
Preheat oven to 300F. Mix all dry ingredients in a large bowl. Include your add-ins into the same bowl, mix. Wet ingredients mixed in a separate bowl, then added to the large bowl until all ingredients are well-combined. 1 tablespoon of dough/cookie on a lined cookie sheet. Bake for 20-25 minutes, let cool, then enjoy with friends and family.
Who's winning at life? YOU are.
To your good health,